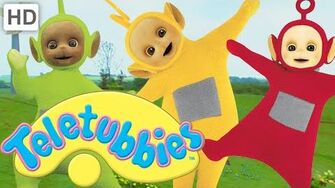 In Teletubbyland, the Teletubbies pop out behind the hills twice. Then, the Magic Windmill Spins and The Teletubbies watch some children practice yoga. Back In Teletubbyland, the Teletubbies are very busy. Tinky Winky is marching with his bag, Dipsy is dancing with his hat and Laa-Laa is playing with her ball.
Featuring: Anne-Marie Zulkahari & The Learning Tree Nursery, London
Trivia
Laa Laa was the missing Teletubby
Tinky Winky was the boo shouter
Ad blocker interference detected!
Wikia is a free-to-use site that makes money from advertising. We have a modified experience for viewers using ad blockers

Wikia is not accessible if you've made further modifications. Remove the custom ad blocker rule(s) and the page will load as expected.