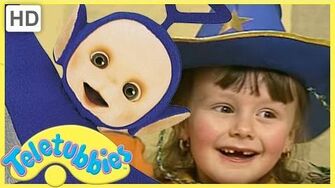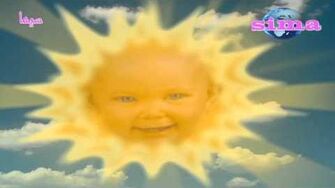 The Teletubbies dance The Swinging Dance before watching some children wrapping presents for their friend. The Teletubbies are asleep before Noo Noo comes along and tidies up. The Teletubbies chase the Noo Noo before the Magic Windmill spins. The Singing Man in the Pink House also appears in Teletubbyland before the sun baby giggles for "Tubby Bye-Bye."
Featuring: Christine Liang, Lupondo Lyambo, Stacey Mulryan and Minh Nguyen
Plot (US Version)
Inside the Home Hill, Laa Laa's ball bounces in the front entrance, and the Noo Noo tidies it up. Until then, Laa Laa appears saying 'Eh-oh!'. Then, the Noo Noo blows up Laa Laa's ball, and Laa Laa has her ball back to Infinity. Then, the windmill starts spinning, and Laa Laa runs out to join the Teletubbies. Then, they watch some children wrapping presents for their friend. In Teletubbyland, the Teletubbies run around the Home Hill, then they say Eh-oh. Then, the Magic Windmill starts spinning as the Teletubbies say Uh-oh, then the camera cuts to the Magic Windmill spinning (with magical event tune). The Teletubbies watch The Magic Tree grow in Teletubbyland. Afterwards, the Magic Windmill stops spinning, and then back inside the Home Hill, Tinky Winky makes 4 Tubby Toast. And suddenly, the Noo Noo tidies up 4 Tubby Toast. Tinky Winky calls the other Teletubbies, but they realized that there's no toast on their plates. Naughty Noo Noo! They chase the Noo Noo, after when they did it, Po pushes a button. Then, the Teletubbies eat their Tubby Toast. Then, the Teletubbies does The Happy Dance before the camera cuts to Tubby Bye Bye (instead of cutting to the sun scene).
Trivia
Po was the 'boo' shouter in UK Version. Dipsy was the boo shouter in US Version.
Dipsy was the missing teletubby in UK Version. Tinky Winky was the missing teletubby in US Version.
The US Version has The Magic Tree after the segment where they look at the windmill which is a rare windmill version. Also, the US Version has The Windmill Stop Spinning Animation before the next segment.
The US Version also has The Happy Dance after the next segment.