Who's In the House? is a Teletubbies segment, it was featured in the episode Numbers-4(version 2)
Plot
The Teletubbies say Eh-Oh, then they have some Tubby Custard and while they are eating Tubby Custard, The Teletubbies decide to play a game called Who's in the House, so Po decides to leave and she leaves on her scooter, meanwhile the Other Teletubbies finish up their custard, with only 3 Teletubbies left, and so Laa-Laa leaves with her ball, then When Tinky-Winky and Dipsy are Jumping, there are only 2 Teletubbies left, and so Dipsy leaves with his hat, Then Tinky-Winky falls asleep, with only 1 Teletubby left, Then he wakes up and leaves with his bag, leaving Noo-Noo all alone so he goes around in circles for a few times, The Magic Windmill spins after this for the Magical Event the Magic House.
Trivia
There is a rare windmill ending in this segment(watch the video to see it, must turn annotations on to see it).
Rare Windmill clip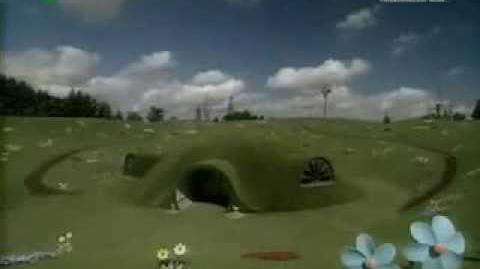 Ad blocker interference detected!
Wikia is a free-to-use site that makes money from advertising. We have a modified experience for viewers using ad blockers

Wikia is not accessible if you've made further modifications. Remove the custom ad blocker rule(s) and the page will load as expected.