What's That? (Delightful Dances and Silly Surprises)

Directors

Paul Gawith

Nigel P Harris

Bob Jacobs

Previous

Next

unknown
What's That?
is a Teletubbies VHS and DVD released in 2003 by BBC and Ragdoll Productions.
Featuring: Vinata Godbole, Radhika Bali, Anuska Mehta, Annabel Johnstone, Neiko Ali and Anthony Spiers-Fitzgerald
Teletubbies Everywhere- International Inserts: FINLAND- Yleisaradio Oy Finnish Broadcasting, CHILE- Discovery Networks Latin America/Iberia, TAIWAN- Public Television Service Foundation, RUSSIA- RTR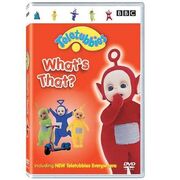 Includes
Teletubbies Everywhere Segments
Ice Skating - Finland
Autumn Leaves - Chile
Teletubbies Segments
​US Version
Teletubbies Everywhere
Teletubbies Segments
A Day for Dancing
Voice Trumpet plays Church Bells
Asian Storyteller (The Fox)
What Color is Tubby Custard?
Teletubbies Swapping Their Favorite Things
Special Features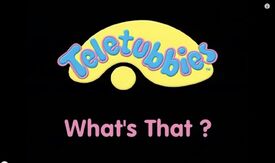 #Windmill
Puddle
Watch
Trivia
The UK cover is Red and Po is the closest.
This was the last VHS to use the Warner Home Video logo with the AOL Time Warner Byline
Po was the missing teletubby
Cover gallery
Ad blocker interference detected!
Wikia is a free-to-use site that makes money from advertising. We have a modified experience for viewers using ad blockers

Wikia is not accessible if you've made further modifications. Remove the custom ad blocker rule(s) and the page will load as expected.