Walking in the Woods

Number

34

Air Date

15 May 1997

Director

Vic Finch

Previous

Next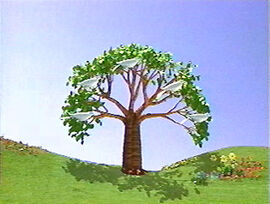 Walking in the Woods
is the 34th episode of the original series. It first aired on 15th May, 1997.
Plot
Laa-Laa feels like giving all the other Teletubbies a big hug. She gives Po a Big Hug. Then she runs around the house trying to find Dipsy so she can give him a Big Hug. She finds him and gives him a Big Hug. Laa-Laa wants to give Tinky Winky a Big Hug. She tries calling him, but she can't find him. After calling him again, Tinky Winky appears and Laa-Laa gives him a Big Hug. Then Dipsy and Po join in for a great Big Hug. Then the windmill starts spinning and the Teletubbies watch some children who are going for a walk in the woods. The Teletubbies do the Falling Down Dance. Afterwards the windmill spins and the Teletubbies go to watch the Magic Tree before the windmill stops spinning and it's time Tubby Bye-Bye.
Featuring: Fraser Hopkin, Sarah Wichall and Denise Moir
Trivia
Laa-Laa was the boo shouter.
Dipsy was the missing teletubby.
The Laa-Laa giving Big Hugs segment was featured in the VHS Big Hug!
This episode features one of the rarest Magic Windmill animations.
This episode marks the first appearances of Fraser, Sarah and Denise
Watch Episode