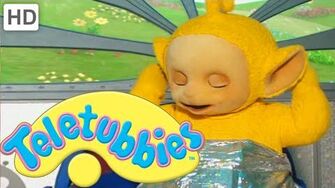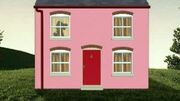 The Teletubbies have fun playing a game standing on a hill in different orders and calling out their names ,then they watch some children playing a wake up game with Alex Pascall. Then the singing man in the pink house appears. The Teletubbies are asleep and play a waking up and sleeping game before Tubby bye bye.
Featuring: Alex Pascall with Swayze Bishton, Tyrone Francis, Josh Kellerman, Jee Su Kim, Bethanie Sadler and Dwayne Stewart
Plot (US Version)
The Teletubbies are lying on the floor in front of the control panel. They look up at the camera and say: "Eh Oh!" quietly. They are being quiet. Every now and again, they giggle and then look up at the camera and say: "Shh!" The Noo-Noo watches them, however, he decides to be noisy by making his usual sucking and slurping noises.
Suddenly, the Teletubbies look to see the Magic Windmill spinning in the distance. This time, they say: "Uh Oh!" loudly and laughing happily, they run out of the house to watch the Magical Event.
The Teletubbies watch The Magic House with the Singing Man singing on the Top Left Window. After the magical event, The Teletubbies do The Rocking Dance before the Magic Windmill spins as the Teletubbies run outside the house. And the Teletubbies run off to watch some children playing a game with Alex Pascall.
The Teletubbies were asleep and woke up one by one but they fell asleep and woke up in time for Tubby Bye-Bye.
Trivia
This is the last episode that has the original costumes as seen in Ned's Bicycle.
After the Magic House disappears, a fade effect is used for the next scene.
Laa-Laa was the 'boo' shouter in UK Version. Po was the boo shouter in US Version.
In the US Version, it has The Magic House (Top Left Window) Sketch instead of (Top Right Window) Sketch, and The Rocking Dance was added before The TV Reciever Event.
Alongside Larette Tap Dancing, Going In and Coming Out and African Dance, the US version of this episode has the magical event before the TV event.
Tinky Winky was the missing teletubby In UK Version. Dipsy was the missing teletubby In US Version
This was the last episode to have Dave Thompson as Tinky Winky.