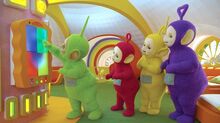 Wait For It

Number

389

Air Date

28 January 2016

Director

Richard Bradley

Previous

Next
The Teletubbies wait for tubby toast then the Magic Windmill spins and the Teletubbies watch a boy in Tummy Tales waiting to cross a road with his granddad and waits for a bus. Then they wait for the Tubby Phone to be answered and it is Dipsy's turn to do the Tubby Phone dance.
Trivia
This is the twenty-fourth episode of the new series.
Laa Laa was the missing teletubby
Po was the boo shouter but Dipsy said goodbye for a final time
This episode aired in the US on June 23, 2016.
Goofs
TV Guide states that the Tiddlytubbies are in this episode, but they do not make an appearance, nor are they mentioned.