Hello everyone! There is a new promo picture for the new Teletubbies that will be airing later this year. It is said that the Teletubbies now have touch screen tummies and still have their antennae on their heads. Teletubbyland and the Superdome also have been visually enriched and now the flowers will grow and bloom. The new windmill will be different too and is said to be eco-friendly and made of natural materials. Ferne Cotton will be one of the Voice Trumpets. Daniel Rigby will be the new narrator. Antonia Thomas will say the opening and closing lines on the show. Jane Horrocks will be playing a new mobile-phone style device that will transport the Teletubbies to the modern world. The new episodes will be premireing later this year on Cbeebies! Who's excited for the new episodes?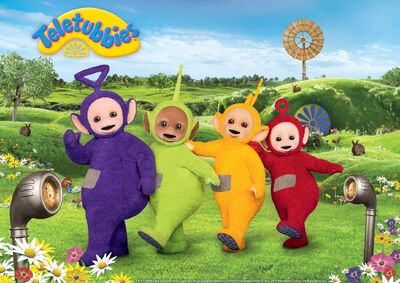 Ad blocker interference detected!
Wikia is a free-to-use site that makes money from advertising. We have a modified experience for viewers using ad blockers

Wikia is not accessible if you've made further modifications. Remove the custom ad blocker rule(s) and the page will load as expected.