Up and Down

Number

368

Air Date

11 November 2015

Director

Jack Jameson

Previous

Next
Tinky Winky, Dipsy, Laa-Laa and Po live and play together in Teletubbyland. When the Tubby Phone rings,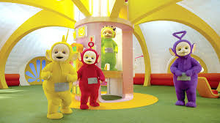 Dipsy comes slowly down on the Dup Dup to answer it and it then goes back up again! The Teletubbies all have fun doing the Dipsy Tubby Phone dance and watch a Tummy Tale about a boy travelling up in a lift that takes him into the treetops.
Trivia
This is the third episode of the 2015 series
This marks the first appearance of the Tubby Phone and the Dup Dup two new objects only appeared in the 2015 series
This is the first episode where Dipsy answers the Tubby Phone.
This was also the first appearance of the inside of the redesigned Tubbytronic Superdome and the redesigned Noo Noo. Also, this episode marks the first appearance of the Voice Trumpets in the reboot, not counting the intro or Tubby Bye Bye.
Po was the missing teletubby
Tinky Winky was the boo shouter but Po said goodbye for a final time
This was one of the episodes shown at the BFI Film Festival in London's Southbank, on the day of the World Premiere and the launch of the Teletubbies 2015 Series, after the schedule date for the first episode was officially announced on October 25th 2015.
This episode aired in the US on May 31, 2016.
Ad blocker interference detected!
Wikia is a free-to-use site that makes money from advertising. We have a modified experience for viewers using ad blockers

Wikia is not accessible if you've made further modifications. Remove the custom ad blocker rule(s) and the page will load as expected.