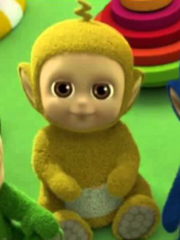 Umby Pumby is the yellow Tiddlytubby. She has a Zig-Zag shaped antenna. As she is yellow, she shows quite a resemblance to
Laa-Laa
.
Umby Pumby was one of the first Tiddlytubbies introduced in the episode Babies. Then from the episode Tallest Shortest until the end of Season 1, she was only seen sleeping.
In Season 2, the Tiddlytubbies were given their own characteristics. Umby Pumby became the Sleepy Tiddlytubby. She likes yawning and falling asleep with her little teddy bear.
Appearances
Gallery
Ad blocker interference detected!
Wikia is a free-to-use site that makes money from advertising. We have a modified experience for viewers using ad blockers

Wikia is not accessible if you've made further modifications. Remove the custom ad blocker rule(s) and the page will load as expected.