Uh-Oh! Messes and Muddles (Funny Day)

Number

5

Directors

Vic Finch

Nigel P Harris

David G Hillier

Previous

Next
Uh Oh! Messes and Muddles (also known as "Funny Day")
is the fifth volume in the Teletubbies VHS series released in 1998 (1999 in the USA).
Segments
They're All Tidy (From Washing Up)
The Twisty Dance (From Little Baby)
The Ball of String (From Amy's Pasta)
Dirty Seat (From Urban Birds)
Tubby Custard Cloud (From Swimming With Stephanie)
The Magic House (The Singing Man in the Pink House) (Bottom left window)

Featuring: Ella & Lilly Ainsworth, Emma Beaumont, Christopher Chavez, Rebecca Goldberg, Edward Grant, Saeka Hirari, Tom Jewitt, Daisy & Ned Keogh, Jack Murray, Samantha Nguitgeu, Amy Pittorino, Hartej Ranvanda, Ben Shepherd, Tomas Shepherd, Roisheen Smith, Charlie Snell, Pheobe Syms, Rupinder Vig and The Children of St Bede's Prep School Nursery
Trivia
Po was the boo shouter.
The UK version has the rabbit's song (same version from Swimming With Stephanie and Paddling Pool). After the rabbit's song is finished, the camera cuts fading to the opening shot "Home Hill 2".
This is the only video to end with a Magical Event.
The missing teletubby was Laa-Laa.
In Funny Day, the end credits start after the Narrator says "Teletubbies say goodbye".
This is the last tape to have the PBS Kids P-Pals from 1993. The rest will be starting with Dot and Dash. (only in the US version).
Watch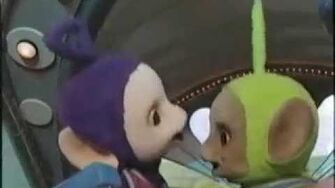 Ad blocker interference detected!
Wikia is a free-to-use site that makes money from advertising. We have a modified experience for viewers using ad blockers

Wikia is not accessible if you've made further modifications. Remove the custom ad blocker rule(s) and the page will load as expected.