Laa-laa walks past rabbits and says 'Eh-oh!' before the Magic Windmill spins and the Teletubbies find out how to make a turban. The Teletubbies went for a walk together so they linked arms and walked together. Po saw her scooter and she wanted to ride her scooter whilst the other Teletubbies went for a walk together but they pulled the other way and all fell down. Po rode her scooter and the other Teletubbies went for a walk together. Laa-Laa saw her ball and Tinky Winky and Dipsy wanted to go for a walk so Tinky Winky, Dipsy and Laa-Laa fell down. Laa-Laa played with her ball. Tinky Winky and Dipsy went for a walk together. Dipsy saw his hat and wanted to wear his hat but Tinky Winky wanted to go for a walk. Dipsy wore his hat and he sung his hat song. Tinky Winky went for a walk on his own before the Sun Baby giggles for Tubby Bye Bye
Featuring: Jasjort Singh
Plot (US Version)
The Teletubbies do The Walking Dance before The Magic Windmill spins and they run to watch some children make a turban. Then, the Teletubbies make some Tubby Custard. After they eat their custard, they run outside and they lay down. After that, the Magic Windmill starts spinning waking them up. The Windmill is still spinning and the Teletubbies run to watch The Tap Dancing Teddy Bear dance in the gazebo (2 times) before the Windmill stops spinning for Tubby Bye-Bye.
Watch Episode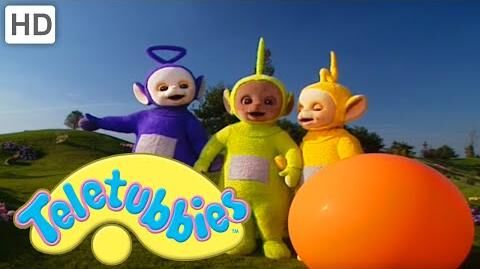 Trivia
The US Version has The Walking Dance (extended version) before The TV Reciever Event. Also, the US Version has The Tap Dancing Teddy Bear that dances (2 times).
The UK Version has No Magical Event and Dance
Laa-laa was the boo shouter in UK Version. Tinky Winky was the boo shouter in US Version.
Ad blocker interference detected!
Wikia is a free-to-use site that makes money from advertising. We have a modified experience for viewers using ad blockers

Wikia is not accessible if you've made further modifications. Remove the custom ad blocker rule(s) and the page will load as expected.