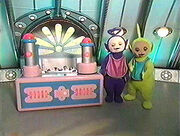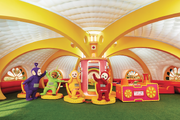 The Tubby Custard Machine is one of the objects in the Superdome that makes messy bowls of Tubby Custard so they have to wear bibs. It makes Tubby Custard for the Teletubbies. It changes appearance through the two series:
Original
In the original series it features the following things:
A red button makes the Tap squirt out the Tubby Custard
A black and grey lever to lower and raise the Tubby Custard Tap
A large silver lever that controls the machine's doors and gets a bowl out onto the conveyor belt. Note: Whenever the Teletubbies take their own bowl after filling it up, the conveyor belt automaticly takes the dish back into the opening.
A green switch to turn on the machine and the pink lights flash for a few seconds.
There's a pink button in the middle that for some reason is never used
In Uh-Oh Messes & Muddles aka Funny Day in USA, Tinky Winky and Dipsy accidentally spread too much Tubby Custard all over the machine while trying to have it and say "Tubby Custard" over and over and over again until the Narrator says "Oh Dear, What A Mess" and the boys say "Uh-Oh!"
New
It's similar to the original one but has different colours and has the appearance of a steam train. When it's moving, tubby custard bubbles puff out of the funnel. Sometimes it goes out of the house, which in the original one didn't happen.
Ad blocker interference detected!
Wikia is a free-to-use site that makes money from advertising. We have a modified experience for viewers using ad blockers

Wikia is not accessible if you've made further modifications. Remove the custom ad blocker rule(s) and the page will load as expected.