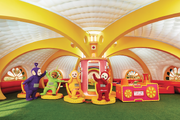 The Tubby Custard Machine is one of the objects in the Superdome that makes messy bowls of Tubby Custard so they have to wear bibs. It makes Tubby Custard for the Teletubbies.
There are lots of episodes where the Tubby Custard Machine makes lots of mess. Some of the most well known episodes are: Washing Up (Also in Uh-Oh! Messes and Muddles) and Trickle Painting (Also in Busy Day)
The appearance of the Tubby Custard Machine has changed between the original and reboot series.
Original
In the original series it features the following things:
A red button makes the tap squirt out the Tubby Custard
A black and grey lever to lower and raise the Tubby Custard Tap
A large silver lever that controls the machine's doors and gets a bowl out onto the conveyor belt. Note: Whenever the Teletubbies take their own bowl after filling it up, the conveyor belt automaticly takes the dish back into the opening.
A green switch to turn on the machine and the pink lights flash for a few seconds.
There's a pink button in the middle that for some reason is never used.
Reboot
In the reboot, the Tubby Custard Machine has been redesigned into the form of a train. It is orange and pink, with yellow lights and a red funnel. On the front, there is a smiling face with blue eyes, red eye brows and a big red mouth.
The Tubby Custard Machine makes Tubby Custard by doing the Tubby Custard Ride. The Teletubbies sit in their chairs and the machine brings them around the house and sometimes even outside. While the ride moves around, Tubby Custard Bubbles come out of the funnel and make lots of mess.
It's very rare that we see the Teletubbies actually make Tubby Custard in the reboot. In fact, the only episodes where we do see them make it are Bouncy Ball and Taps.