Tubby Bye-Bye is the closing sequence of a Teletubbies episode. It takes place at the end of every single episode of both TV series. There are two things that signify that the Tubby Bye-Bye sequence has started: The Magic Windmill will stop spinning, even if there's no Magical Events, or the Sun Baby giggles, unless that would transition to another scene.
A Voice Trumpet rises and says "Time for Tubby Bye-Bye!" three times. The Teletubbies (Shown in the picture opposite) moan because they don't like to say goodbye. The Baby Sun giggles. The Narrator says "Bye-Bye." to each Teletubby and they duck down behind the hills they are standing behind. The Teletubbies silently giggle and a random Teletubby pops up, shouting "Boo!" followed by the others popping up and giggling. The Narrator says "No" (which the Teletubbies repeat and giggle again). Then, after the Baby Sun giggles again, the narrator says "Bye-Bye" to each Teletubby again. The Baby Sun sets as a voiceover says "The sun is setting in the sky. Teletubbies say goodbye." The Teletubbies starting with the Teletubby that says boo walk up to the top of the house to say "Bye-bye!" and then jump in the hole of the Tubbytronic Superdome. As the credits roll, one Teletubby (the boo shouter) says goodbye for a final time by popping out of the hole. Afterwards, the setting Baby Sun disappears behind the hills and the episode ends. 
Reboot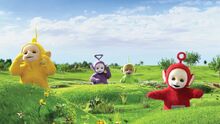 In the Reboot, there are some minor differences in Tubby Bye-Bye.
The Reboot episodes always end with the windmill stopping.
When the Voice Trumpet rises and announces 'Time for Tubby Bye-Bye' it only says it twice.
After the Teletubbies duck down behind the hills, they do not giggle. Then when the Teletubby pops up to say boo, their signature instrument plays a small music cue.
After the Narrator and Teletubbies say 'No!', Instead of saying 'Bye-Bye' to each Teletubby again, the Narrator says 'Bye-Bye Teletubbies' and all four Teletubbies say 'Bye-Bye' and they all duck down behind the hills together.
The Teletubbies say 'Bye Bye' and jump into the house in their normal order: Tinky-Winky, Dipsy, Laa-Laa and Po. The Teletubby that says 'Bye-Bye' for the final time is always different from the boo shouter (the only episodes where they are the same are the colour episodes Red, Purple and Yellow)
Trivia
When Laa-Laa is the boo shouter, the Teletubbies voices sound different, but episodes with the other Teletubbies as the boo shouter, it sounds the same.
In the Teletubbies Videos, and on PBS, all four Teletubbies pop out of the hole to say "Bye-Bye!" for the final time at the end of the episode.
Most of the videos, such as Here Come the Teletubbies, Dance with the Teletubbies, and Nursery Rhymes, have the Tubby Bye-Bye Tune with the Xylophone, Bassoon and Piano playing when all four Teletubbies pop up to say goodbye at the very end of the video. Several videos, such as Uh-Oh! Messes and Muddies (Funny Day in the U.S.), Big Hug, and Musical Playtime, along with the American videos, have the tune but without these instruments.
The Windmill is seen in its Start/Stop Spinning animation with the ground when the Teletubbies jump into the Superdome, spinning slowly without sparkles.
When Po is the boo shouter, the Teletubbies do not giggle before Po says "boo".
In the PBS version, a female narrator is in the Voice Trumpet, and Rolf Saxon says the rhyme and signs off to the Teletubbies. Also, one of the credits say To Find Out More About Teletubbies: PBS Online at www.pbs.org after the last Teletubby jumps into the Tubbytronic Superdome at Home Hill.
There is also a snowy version of the Tubby Bye-Bye segment used in the snow themed episodes. There are some differences between this version and the normal version. For example, the Voice Trumpet appears to be rising between hills, as opposed to rising from behind some flowers in the normal Tubby Bye-Bye. To add to that, the Voice Trumpet doesn't turn it's head like it does in the normal Tubby Bye-Bye. Finally, the Voice Trumpet is covered in snow, which, of course, is different from the normal version.
There are 4 episodes where the Teletubbies don't moan when it's time to say goodbye and just run out of the house. Those episodes are Herding Sheep, Numbers - 9, How Things Swim And Numbers - 2 (V2).
There are 3 episodes where the Teletubbies say 'Uh Oh' when the voice trumpet says 'Time for Tubby Bye Bye'. Those episodes are Flamenco Guitar, Animals - Snails and Naughty Duck.
Videos that have the Xylophone, Bassoon and Piano tune
With Original Tune.
Here come the Teletubbies.(1997)
Dance with the Teletubbies.(1997)
Nursery Rhymes.(1998)
Favourite Things.(1998)
Hands, Feet and Dirty Knees (2000)
Animals Big and Small(Baby Animals) (2001)
Busy Day.(2001)
Hide and Seek.(2003)
Oooh!(2003)
Again-Again!(2003)
Look!(2003)
What's That?(2004)
Happy Christmas from the Teletubbies.(Along with Christmas Instruments)(1998)
Same tune without these instruments
Uh-Oh Messes and Muddles!(Funny Day)(1998)
Big Hug!(1999)
Musical Playtime.(1999)(Silly Songs and Funny Dances)
Bedtime.(2000)
Magical Surprises.(2002)
Happy Weather Stories.(2002)
Naughty Noo-Noo!(2003)
All of the American VHS' and DVDs
Episodes with Po as the 'boo' shouter
The Grand Old Duke of York
Painting with Hands and Feet
Lambs
Numbers: 1 (v1)
See Saw
Owl Babies
Washing the Bus
The Beach
Yellow Cow
My Mum's a Doctor
Haymaking
Ned's Potatoes
Butterfly
Carnival
Guessing Game
Hickory Dickory Dock
Numbers: 6 (v1)
Sandcastles
Herding Sheep
Bubble Pictures
Numbers: 8 (US)
Leaves
Numbers: 1 (v2)
Stop and Go
Music with Debbie 2
Naughty Horse Returns
Feeding Sheep in Winter
Making Christmas Cards
Snowy Story
Colours: Pink
Naughty Pig
Washing the Car (US)
Playing Ball
Numbers: 2 (v2)
Ned's Geraniums
Digging in the Sand for Crabs
Drumming with Norris
Gingerbread Boy
Painting Easter Eggs
My Dad's a Tram Driver
Dentist
Our Dog Alice
Statues
Cygnets
Playing with Dough
Carnival II
The Pier
Mark and Topus
Putting Angus to Bed
Jigsaw - Rabbits
Robin
Ballet - Jack in the Box
Spiders
Fancy Dress
Rebecca's Dogs
Woodlice
Twirlers
Numbers: 6 (v2)
Frogs
Wrapping
Making Bread
Orange Picking
Cat's Night Out
Colours: Black
Kathak Dancing
Christmas in the UK
Towers
Ball Games with Debbie
Sing a Song of Sixpence
Mary Had a Little Lamb
Handshapes - Turkey
Clay
Apple Pie
Skipping
Making a Den
Maori Singing
Making Music
Chameleon
This is Our Park
Ten Pin Bowling
Dog Kennel
Scrapbook
Move with the Drum
Barrel Organ
Sleepover
Bluebells
Paddling By the Sea
Stretching Words
Animal Plates
Action Story
My Dad's a Policeman
Crazy Golf
Tabla (India)
Here Come the Teletubbies
Dance with the Teletubbies
Uh Oh! Messes & Muddles
Musical Playtime
Busy Day
Making Friends
Babies
Puddles
Bumps!
Red
Wait For It
Snowball
Taps
Tallest Shortest
Follow the Leader (2016 episode)
Taking a Ride
Breakfast
Horses
Fixing Things
Again Again (2016 episode)
Say Hello
Bouncing
Didgeridoo
Backwards and Forewards
Fast Slow, Fast Slow
Give It Back
Swap Places!
Episodes with Tinky Winky as the 'boo' shouter
Ned's Bicycle
Naughty Sock
Dad's Lorry
Humpty Dumpty
Balancing
Building a Barbecue
Drawing Cacti
Rolling
Shadows
Painting Swings
Bubbles
Gospel Singing
Hey Diddle Diddle
Dirty Dog
Digging in the Sand for Worms
Throwing
Naughty Bee
Paddling Pool
Numbers: 5 (v1)
Animals 4 - Fish
Sophie - Art Circus
Walking the Dog
Eid - New Clothes
Going to School By Boat
Squirrels
Good Morning
Flamenco Guitar
Chinese New Year
Mandir Temple
Bell Ringing
Hanukkah
Crackers
Living in Flats
Urban Walk
Washing the Car
Amy's Pasta
Milking Cows
Making Fantastic Animals
Finding Chocolate Eggs
Football
Making Salad
Tulips
Rollerblading
Numbers: 4 (v2)
Haircut
Becky's Flake Cakes
Numbers: 10
Hair Braiding
Feeding My Baby Sister
Long Horns
Blackberry Picking
Clogs
Land Yachting
The Very Proud Crown
Boom Boom Dance
Basketball
Dad's Portrait
Ice Lollies (Lollipops)
Numbers: 7
Pebbles
Christmas in South Africa
Christmas in Finland
Feeding Baby Penguins
Catherine's Toy Farm
Harp
Fruit Tasting
Mark Making Pictures
Clockwork
Brennan's Moonwalk
Crawling (UK version)
Carousel
Yoga
Tram (Cable Car)
Pavement Artist
Colours: Brown
Torches
Pumpkin Face
Getting Up in the Morning
Going Up and Going Down
Ducks
Rosie's Hairdo
Mum's Portrait
Running
Grasshoppers
Asian Storyteller
Up the Hill
Collecting Stones
On Top and Underneath
Afro-Caribbean Vegetables
Trikes
Monkeys
Bird Bath
Indian Dancing
Sitting and Standing
Cricket
My Home is a Boat
Rickshaw
Violin (Spain)
Picking Chillies (Spain)
Favourite Things (VHS/DVD)
Bedtime
Up and Down
Bubbles (2015 episode)
Wake Up Time!
Bouncy Ball
Messy Fun
Reflections
Packing
Party!
Conga
Purple
Things
Taking Turns
Running Race
Making Sounds
Football (2016 episode)
Picnic
Tickly
Teddy Bear
Sliding Down
Sleepybyes
Stuck
Lullaby
Episodes with Dipsy as the 'boo' shouter
Our Pig Winnie
Making Flowers
Larette Tap Dancing
The Helicopter
Jumping
Cafe Chocolate
Numbers: 2 (v1)
My Mum's Keyboard
Strawberry Picking
Mark and Zoe Cooking
Going for a Walk
Music with Debbie
Sarah, Fraser and the Ducks
Lighthouse
Swans
Dandelion Clocks
Josie's Pots
Sand Pendulum
Picking and Sorting
Dry Stone Wall
Numbers: 8
Pancakes
Little Baby
Colours: Blue
Washing Up
Christmas Carols
Level Crossing
Becky and Jed Finding Eggs (both UK & US versions)
Handy Hands
Giraffes
Naughty Sock Returns
Flamenco Dancing
Feeding the Monkeys
Naughty Hat
Naughty Sausage
Animals - Snails
Making Lanterns
Naughty Duck
Kite Flying
Tennis
Hand Painting
Washing the Elephant
Hair Braiding (US)
Kittens
My Violin
Boys and Eggs
Cuddles Gets Lost
Tropical Fish
Rangoli
Old King Cole
Naughty Soap
Piglets
Chicks
Body to Body
Otters
Christmas in Spain
Oranges and Lemons
Ten Little Men Finger Play
Caterpillars
Hedgehogs
Ladybird
Welly Walk
Circles
Spray Paint Mural (Laa Laa as well but Laa Laa ending)
Moon
Catching Leaves
Badgers
Game Drive
Animal Rhythms
Honky Tonk Piano
Baby Elephant
Llama
Goats
Buying a Sari
Jack and the Beanstalk
Puppies
Obstacle Course
Rumble Tumble Fun
Dragonflies
Washing the Goat
Floating
Nursery Rhymes
Big Hug!
Hands, Feet and Dirty Knees
Animals Big and Small
Oooh!
Again Again! (with Tinky Winky ending)
Naughty Noo-Noo!
Favourite Things (2015 episode)
Hiding
Muddy Footprints
Sing Song
Silly Sausages
Big Dance
Number Four
Rolling (2016 episode)
Catch the Ball
Ballet
Knock Knock
Keep Fit
Music
Rainbow
Tall Tower
Trailer
Not Enough Room
Spinning
Greens
Up Down, Down Up
What's Your Name?
I Spy
Listen
Episodes with Laa-Laa as the 'boo' shouter
Playing in the Rain
Photo Faces
Emily and Jester
Delilah Packing
Feeding the Chickens
Rockpool
Emily and the Trap
The Beach (US)
Swimming with Stephanie
Walking in the Woods
Tweet Tweet
Arthur Robot Story
Numbers: 3 (v1)
Naughty Cloud
I Want to Be a Vet
Naughty Snake
Numbers: 4 (v1)
Ice Skating
Wake Up
Emily Washing the Pony
Gymnastics
Going On a Train
Numbers: 9
Urban Birds
Monkey Safari
Funghi the Dolphin
How Things Swim
Christening
Numbers: 5 (v2)
Christmas Tree
Rocking Chair
Our Calf Treacle
Irish Dancing
Penguins
Samira's Gymnastics
Cafe Eggs
Looking for Rabbits
Turban
Numbers: 3 (v2)
Colours: Green
Sea Lions
Ice Cream Sundae
Ballet Rhymes
Cows and Calves
Windmill
Funny Walks
Hovercraft
Long Horns (US)
Colours: Purple
Numbers: 5 (v3)
Squeezy Painting
My Piano
Peacocks
Jigsaw - Elephant
Dad's Portrait (US/Po ending)
Colours: Orange
Water
Double Bass
Sparkly Spider
Camping
Decorating Boxes
Nativity Play
Trickle Painting
Hermit Crabs
Colours: Yellow
Guess Who I Am
Boots
Crawling (US version)
Shrimps in the Sand
Cuddles Poor Paw
Shoeshine
Spray Paint Mural (alongside Dipsy but her ending)
Fox Cubs
Stick Insect
Hide and Seek
Colours: Red
Bagels
Sea Tractor
Gold and Silver
Watering the Garden
Treasure Box
My Mum's Breakfast
Grandad's Motorbike
Firefighter
Going In and Coming Out
Seals
Our Story
Jabadao
Silvie's Fish Pond
Asian Storyteller (The Fox)
My Pretend Friend
Mud Hole
Grandad's Pigeons
African Dance
Squeezing
Hanging Out the Washing
Girl in the Back Garden
Bubbles (Russia)
Happy Christmas From the Teletubbies
Teletubbies and the Snow
Ready Steady Go!
Happy Weather Stories
Hide and Seek (VHS)
Look!
What's That?
Watering Can
Musical Box
Windy Day
Roundy Round
New Toy
Train Ride
Flying
Custard Chaos
Waving
Loop the Loop
Photos
Party Invitation
Being Quiet
Twinkle Twinkle
Inside Outside
Close the Gate
Honk Honk
Toast
Blow
Yellow
Musical Statues
This Way That Way
Noise
Gallery