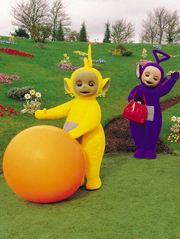 Tinky-WinkyXLaa-Laa is the main rival to
Tinky-WinkyXPo
 and 
DipsyXLaa-Laa
.
Why?
Tinky-Winky and Laa-Laa are good friends, but it's possible that they could have crushes on each other as well. A few facts that some as indications of relationship potential are: Laa-Laa is bubbly, Tinky-Winky is gentle; and they are both relatively gullible.
Hints
Tinky-Winky and Laa-Laa are the only Teletubbies who love dancing.
In "Christmas Gospel Singing" and "Teletubbies and the Snow," Tinky-Winky helped Laa-Laa up after she slid down the snow.
In "Walking In The Woods" and in "Big Hug," Laa-Laa gave Tinky-Winky a big hug straight away after she found Tinky-Winky.
In "Cricket," Tinky-Winky took Laa-Laa's ball away from her and then threw it back to her after he saw his bag.
Tinky-Winky and Laa-Laa were seen together in "Clay."
Tinky-Winky and Laa-Laa fell down together in the Falling Down Dance.
In "Feeding The Chickens" and "Here Come the Teletubbies (VHS)," Tinky-Winky and Laa-Laa were at the table together during the Tubby Toast accident.
In "Numbers - 2," Tinky-Winky and Laa-Laa play together before they, Dipsy, and Po watch the Bear and Lion.
In the Jumping Dance, while Dipsy and Po were waving goodbye to Tinky-Winky as he rolled down the hill, Laa-Laa was the only one to say "Uh-oh!" as Tinky-Winky rolled down.
In "The Beach" and "Here Come the Teletubbies (VHS)," after Tinky-Winky said "Eh-oh!" to Laa-Laa, he gave her a kiss.
In African Dancing, Tinky-Winky and Laa-Laa were bumping their butts and their tummies while going in and out of the Superdome. Same thing for Dipsy and Po.
In Dance with the Teletubbies (VHS), Tinky Winky was dancing with the skirt, then he saw Laa Laa and gave her a big hug.
Votes
How do you feel about Tinky-WinkyXLaa-Laa? Vote below and let us know!
(But please, if you feel the need to comment, be nice!)
Whats YOUR opinion on Tinky-WinkyXLaa-Laa?
Gallery
Ad blocker interference detected!
Wikia is a free-to-use site that makes money from advertising. We have a modified experience for viewers using ad blockers

Wikia is not accessible if you've made further modifications. Remove the custom ad blocker rule(s) and the page will load as expected.