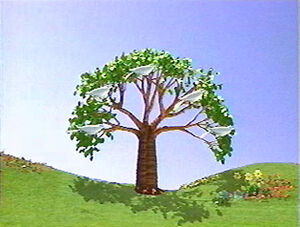 The Teletubbies wake up to do their exercises. A voice trumpet instructs them on what exercises to do.After a while, they get tired of repeating the same exercises over and over again and run away. They watch Jameela and Daniel throwing a ball and they play a game together. Laa-Laa and Po play catch with Laa-Laa's ball, but they throw it too far. Dipsy catches it and throws it too far. Then Tinky-Winky catches it. The Magic Tree appears and then the Teletubbies do the Round and Round Dance before Tubby Bye-Bye.

Featuring: Jameela Green and Daniel Slavin
Trivia
When the Teletubbies watch the windmill spin for the Magic Tree, the Magic Event tune plays straight away. After the Teletubbies say Uh-Oh and run away, it cuts straight to the Sun Baby giggling and the Teletubbies listening to the harp tune.
After the exercises segment is over, the camera cuts to the opening shot Field 8 before the magic windmill spins.
After the Throwing video, it cuts to the next scene without a opening shot.
Tinky Winky was the boo shouter.
Dipsy was the missing teletubby.
Watch