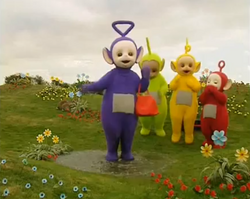 The Puddle
is a segment in Teletubbies. It was featured in
Playing in the Rain
 and
Here Come the Teletubbies
.
Plot
A cloud appears in Teletubbyland and starts to rain, which leaves a puddle. Po was riding on her scooter, when she stops and puts her scooter the floor and looks at the puddle. She knows that it's a big puddle. Dipsy then comes to the scene. Dipsy arrives when he accidentally steps on the puddle. Laa-Laa then comes to the scene.  Dipsy and Po tried to warn her too, but she stepped on the puddle without warning. 
Tinky-Winky then walks to the scene. He used his right foot, but sees the puddle, and successfully avoids it. The three Teletubbies sighed in relief. He purposely jumped into the puddle, and splashes his feet! The three Teletubbies laughed. When Tinky Winky sees his wet feet, he laughs and enjoys splashing his feet and returns to dry substance. Unfortunately, their fun ends when suddenly... The Magic Windmill spins, and the Teletubbies rush to see a magical event.
Alternate Ending
In Here Come the Teletubbies, the Animal Parade replaces the Three Ships.
Clip
Ad blocker interference detected!
Wikia is a free-to-use site that makes money from advertising. We have a modified experience for viewers using ad blockers

Wikia is not accessible if you've made further modifications. Remove the custom ad blocker rule(s) and the page will load as expected.