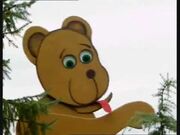 The Teletubbies walk round and round some hills, then they watch some children explore a pier. After that, they go off to watch the Lion and Bear play their hide and seek game in Teletubbyland. Then the Teletubbies go do the Walking Dance before doing the Tubby bye bye sequence.
Featuring: Christopher & James Botting, Katy Griffin, Mungo & Joseph Kett, Saalim Koomar, Rebecca Lawlor and Matthew Wise
Trivia
Po is the boo shouter.
Laa Laa is the missing Teletubby.
This is the last ever episode directed by David G Hillier.
Ad blocker interference detected!
Wikia is a free-to-use site that makes money from advertising. We have a modified experience for viewers using ad blockers

Wikia is not accessible if you've made further modifications. Remove the custom ad blocker rule(s) and the page will load as expected.