The Jumping Dance
Talk

0
1,032pages on
this wiki
The Jumping Dance is the first of the dances that the Teletubbies do in the show.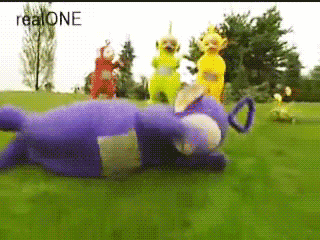 It was first shown in the episode Our Pig Winnie. This dance shows the Teletubbies dancing on a hill. They jump around to the music and walk around and jump, towards the end Po walks a different way than Tinky Winky Dipsy and Laa Laa then she walks over towards Tinky Winky and each Teletubby does their own jump, Tinky Winky ends the dance by falling over and rolling away while Dipsy, Laa Laa and Po laugh and say Bye Bye to Tinky Winky.
The Jumping Dance appears in some various episodes:
(Original Version)
Our Pig Winnie
Humpty Dumpty
Swimming with Stephanie
Ned's Potatoes
Butterfly
Little Red Riding Hood
Dance with the Teletubbies
(Second Version)
Jumping (US version)
Washing Up
Irish Dancing
Tulips
Long Horns
Feeding Baby Penguins
Grass Hoppers
Let's Dance
 Trivia
Sometimes when Tinky Winky does his jump he falls over and then gets back up and they all jump around together but then he falls and rolls away and the dance ends.
Later on in the series, a second version of the dance was shot which showed the Teletubbies dancing on the path near the Windmill. It first appeared in the episode Washing Up. This is the only dance or even anything in Teletubbies that has a second version of it.
The Second version is common with Lion and Bear episodes.