This article is about the dance. You may be looking for the reboot episode of the same name.
The Follow The Leader Dance
is a dance that the Teletubbies do. The Teletubbies do this dance inside the house, with the Noo-Noo.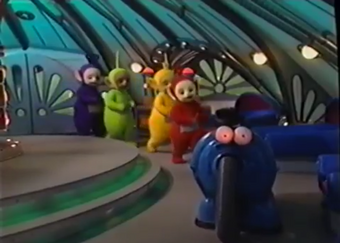 Plot
The dance starts off with the Teletubbies sitting on the step near the Control Panel as they turn their heads right and looking towards Noo-Noo as he goes along, being the leader. Then, the Teletubbies get up, getting in a line with Noo-Noo being first in line and Tinky-Winky being last in line. The Teletubbies follow Noo-Noo everything he does during the dance. First they, they walk in a line following him. Next, Noo-Noo spins around and then, one at a time, the Teletubbies spin around too. Next, Noo-Noo goes backwards and then forwards, and the Teletubbies do the same thing as they dance backwards and forwards. They keep going forwards as they go the Tubby Toaster. Then, the Teletubbies follow Noo-Noo as they go around the Tubby Toaster in a few circles. Then, Noo-Noo sways his sucker up in the air as the Teletubbies sway their arms up in the air. They all keep dancing forward again and spin around again. Then, they follow Noo-Noo around the Tubby Beds. They keep dancing forward again just as Noo-Noo is done. The dance ends as the Teletubbies sit back down on the step near the Control Panel, thinking, and turn their heads to the right.
List of Episodes that have this dance
The Follow The Leader Dance appears in some episodes.
Carnival II
Animal Rhythms
Long Horns (US Version)
Dance With The Teletubbies VHS
Trivia
Unlike the other dances, this dance was actually introduced in Dance with the Teletubbies. As the VHS released in 1997, whereas it's 1st television appearance in Carnival II aired in 1998.
This is the only dance that Noo-Noo is involved in.
This is one of the three dances where the Teletubbies dance inside the house. The other two are the Up and Down Dance, and the Skipping Dance.
Ad blocker interference detected!
Wikia is a free-to-use site that makes money from advertising. We have a modified experience for viewers using ad blockers

Wikia is not accessible if you've made further modifications. Remove the custom ad blocker rule(s) and the page will load as expected.