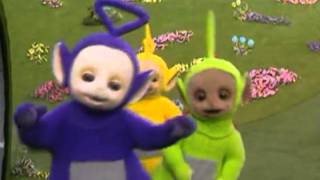 The Calypso Dance(also known as the Bouncy
dance) is one of the dances that the Teletubbies do.
Plot
This dance shows the Teletubbies dancing near the house. It starts off while the Teletubbies were sitting on a flat hill, they see Laa-Laa's Ball bouncing by, so they followed it to the Tubbytronic Superdome. While the Teletubbies are at the front of the house, they all walked to the left, and they walked to the right.
Episodes that it appears in
Spiders
Double Bass
Big Hug
Boots (US Version) - It's Time To Wear Your Boots
Ad blocker interference detected!
Wikia is a free-to-use site that makes money from advertising. We have a modified experience for viewers using ad blockers

Wikia is not accessible if you've made further modifications. Remove the custom ad blocker rule(s) and the page will load as expected.