Teletubbyland is the far away hills and the place where the Teletubbies live.
There are lots of rabbits and talking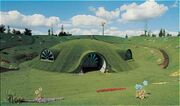 6+flowers and trees and bushes all over the hills. Next to the Home Hill is a Magic Windmill. The Teletubbies love to play and dance over the hills. If something appears from far away, the Teletubbies will ask "What's that?" Then the narrator will explain.
The Baby Sun
is the sun of Teletubbyland also.
The Teletubbies' landscape is an outdoor set located in rural Warwickshire, England, at Sweet Knowle Farm, Redhill Bank Rd, Whimpstone, CV37 8NR (between Stratford upon Avon (where William Shakespeare live) and Shipston on Stour, close to the River Stour). Since filming ended, the fixtures and fittings have been removed from the set, and it appears to have been flooded to form a pond (two fields South of the farmhouse, which is where the postcode points to on the online maps). The paved track leading to the former set still exists, and is the only extant reminder. Until recently, the MS Live Maps view showed the site "in action;" complete with numerous articulated trucks parked at the end of the track. That image is now also updated, but a copy has been preserved at this fan-site. The farm has found a new way to supplement their income; an aquatics centre (fish and pondplant sales).
In June 2007, the location became visible at hi-res on Google Earth, but the imagery (below) was still several years old.
Trivia
There are 2 pieces of music when we zoom to find a place for Teletubbies
1. We hear a quiet piano tune in the Key of E accompanied by a flute and harp
2. We hear 3 harp tunes in a Key of E, and then we hear the quiet piano tune accommpanied by a flute and harp, but this time in the Key of G
Gallery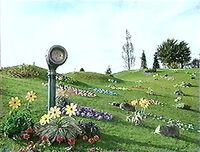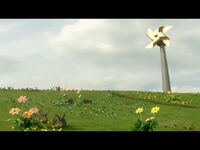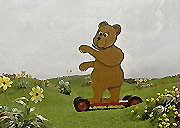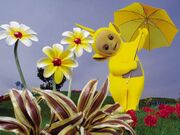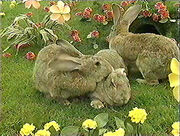 Ad blocker interference detected!
Wikia is a free-to-use site that makes money from advertising. We have a modified experience for viewers using ad blockers

Wikia is not accessible if you've made further modifications. Remove the custom ad blocker rule(s) and the page will load as expected.