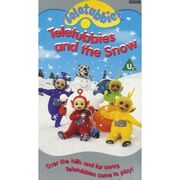 Teletubbies and the Snow
was released on VHS in 1999 and Re-released on DVD in 2003. It was relaesed along with
Happy Christmas from the Teletubbies
on a DVD called Teletubbies Happy Christmas in 2007.
Featuring: Tuomas, Natias, Katarina, Sofia, Aleksi, Daniel, Alexander, Mika, Anni, Vilma, Jaaskelainan, Henrietta, Emma, Tuuli, Ella, Hanna, Riku, Suvi and Annika.
With Thanks To: Eira & Catherine Palme and The Children from Sante Sana Game Reserve, South Africa and The New Testament Church of God, Birmingham, England, Maria Ballester, The Duesa Family and the Juanet Family and Overdale Nursery School, Scarborough, England
Teletubbies Everywhere- Featured film from GERMANY- KIKA
Chapters/Segments
Trivia
The US Version is called Christmas in the Snow and for some reason, is split into 2 videos.
The 2003 release included a Teletubbies Everywhere episode before the actual video that features a boy from Germany walking in the snow.
Laa Laa was the boo shouter. In Volume 1 of Christmas in the Snow, Po was the boo shouter, in Volume 2, Laa Laa was the boo shouter.
This is one of the VHSs that had the Macrovision logo at the start of the VHS.
Laa Laa was the missing teletubby in the UK. Laa Laa was the missing teletubby in Volume 1. Tinky Winky was the missing teletubby in Volume 2.
Goofs
When the Magic Windmill spins for the Nativity Play transmission when the house is shown when the Big Snowball segment ends, The Windmill doesn't have the sparkles.
Watch Video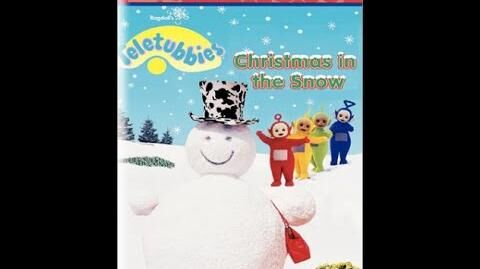 Cover Gallery
Ad blocker interference detected!
Wikia is a free-to-use site that makes money from advertising. We have a modified experience for viewers using ad blockers

Wikia is not accessible if you've made further modifications. Remove the custom ad blocker rule(s) and the page will load as expected.