Home
Talk

35
1,072pages on
this wiki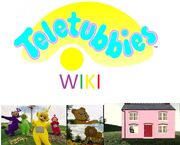 Eh-oh! Welcome to the Teletubbies Wiki!
Teletubbies Wiki is a Teletubbies created website which aims to provide its visitors with information on all the different aspects of the hit CBBC Television series, Teletubbies which originally ran from 31 March 1997 - Febuary 2001, 2002 - present on Cbeebies in the UK and lasted for over 365 episodes. This wiki covers characters, locations objects and everything else to do with Teletubbies. This site is to be about Teletubbies only which means that any visitor is free to edit as long as it has to do with Teletubbies.
The Teletubbies will give you free Tubby Custard and Tubby Toast if you help out on this Wiki!
Read the Teletubbies Wiki Rules here. (Recommended for new users.)
Visit the Teletubbies Fanon Wiki:http://fanontubbies.wikia.com/wiki/Welcome
Visit the Teletubbies Xtranormal Wiki:http://teletubbiesxtranormal.wikia.com/wiki/Teletubbies_Xtranormal_Wiki
Visit the Teletubbies GoAnimate Wiki:http://teletubbiesgoanimate.wikia.com/wiki/Teletubbies_GoAnimate_Wiki
Want to watch full episodes, episode packs, and clips of Teletubbies? You can now watch it all on the official Teletubbies YouTube channel: http://www.youtube.com/channel/UCOk55dAgB8VnMlhaTEMeX5A
Take the Teletubbies Weekly Wiki Poll! New polls every Saturday! (Poll created by The Epic Teletubby)




What would you do if the Scary Lion roared at you?

 

Click on a character image to be linked to their page:
{| width="100%" border="0"|{| width="270" cellspacing="2" align="center"|
|
|
|
|-| colspan="3" align="center" ||-| colspan="3" align="center" |<nowiki><nowiki><gallery type="slider" orientation="bottom">Img12.jpg|Learn about Teletubbies!|link=Teletubbies|linktext=Check out the Teletubbies page to learn about the Teletubbies!teletubby2.jpg|Learn about Teletubbyland!|link=Teletubbyland|linktext=Learn all about Teletubbyland!Teletubbies.jpg|View the Episodes!|link=List of Teletubbies episodes|linktext=Look at the episodes of TeletubbiesThe_Bear.jpg|Learn about the Magical Events!|link=Magical Events|linktext=Learn about all the Magical Events!</gallery></nowiki></nowiki>|}== Quick Links ==Main Article: <nowiki><nowiki>[[Teletubbies]]* [[:Category:Characters|List of characters]]* [[List of Teletubbies episodes]]* [[:Category:Teletubbies_Videos]]</nowiki></nowiki>== Helping out ==:::::::::::::To write a new article, just enter the article title in the box below.<nowiki><nowiki><createbox>width=24break=nobuttonlabel=Create new article</createbox></nowiki></nowiki>;Not sure where to start?* Find out more about the wiki on the <nowiki><nowiki>'''[[Project:About|About]]'''</nowiki></nowiki> page.* If you are new to wikis, check out the <nowiki><nowiki>'''[[Help:Tutorial 1|tutorial]]''', and see [[Help:Contents]].* Check out '''[[Help:Starting this wiki]]'''</nowiki></nowiki> if you're setting up the wiki.;Adding content* Every wiki has two list of articles that need help called <nowiki><nowiki>'''[[:Category:Article stubs|"Stubs"]]''' and '''[[Special:Wantedpages|"Wanted Articles"]]'''</nowiki></nowiki>. Don't be shy, get in there.* Uploading <nowiki><nowiki>[[:Category:Images|images]]</nowiki></nowiki> is another really easy way to help out - see the <nowiki><nowiki>'''[[Special:Upload]]'''</nowiki></nowiki> page!* You can find a list of useful templates on <nowiki><nowiki>[[:Category:Templates]].{{CBBC}}</nowiki></nowiki>