Teletubbies Nursery Rhymes is the third volume in the Teletubbies VHS series released in 1998. Designed For Babies Through Kindergardeners

It was released on the DVD Teletubbies Muscial Rhyme Time! with two titles Teletubbies Nursery Rhymes and Teletubbies Musical Playtime released in 2008.
Includes
Voice trumpet says "Grand Old Duke of York". (from Grand Old Duke of York)
The Teletubbies play Hey Diddle Diddle.(from Hey Diddle Diddle)
The Magic Tree
.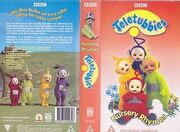 Dipsy and Laa-Laa play Jack and Jill.(from Numbers Two and also One of the Banned Bear and Lion Episodes)
Po sings Twinkle Twinkle Little Star(from Lighthouse)
Laa-Laa and Po sing Pat a Cake.(from Mark and Zoe Cooking-Becky's Flake Cake)
A spider appeared and the Teletubbies play Little Miss Muffet. (from Building a Barbecue)
Voice trumpet says "Humpty Dumpty
".(from Humpty Dumpty)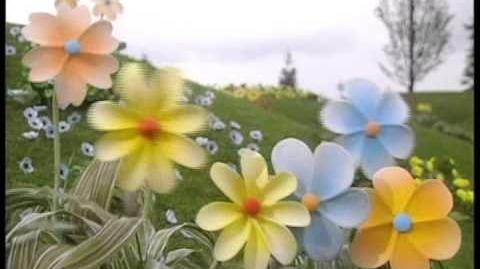 The Teletubbies play Ride a Cock Horse.(from Yellow Cow)
Voice trumpets make clock ticking sounds.(from Hickory Dickory Dock)
Tinky Winky and Po play Hickory Dickory Dock (From Hickory Dickory Dock)
The Happy Dance (From Looking for Rabbits)

Featuring: King Pleasure & the Biscuit Boys, Oscar & Felix Taylor and The Pupils of Chuckery Infants School, Walsall
Trivia
Dipsy was the boo shouter
In the German version the Grand Old Duke of York video was replaced with My Mum's Keyboard.
In the US version the Twinkle Twinkle segment and The Gingerbread Boy switched places with the first 2 segments
The missing teletubby was Laa-Laa
UK narration: Tim Whitnall, Toyah Wilcox, UK Voice trumpets
US narration: Rolf Saxon, US voice Trumpets

01:05:17

Teletubbies - Nursery Rhymes