Teletubbies Go! and Let's Dance are two fun Teletubbies activities about exercising and dancing.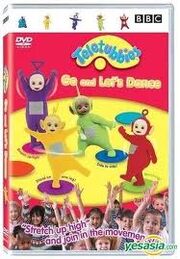 Go! - A fun 20 minute exercising video that features loads of tiny clips from Teletubbies combined of them doing different exercises. Voice Trumpets rise up and say 'Ready Steady Go!' when it's time to begin.
Let's Dance - A small 10 minute video featuring 4 of the Teletubbies favourite dances.
Go!
Introduction: Ready Steady Go!
Stretch Up High
Up and Down
Jumping
Side to Side
Stand Up Sit Down
Standing on one leg                                   
Jumping 2
Teletubbies walk
Tinky Winky Loves Marching                       
Dipsy Loves Dancing
Laa Laa Loves Skipping
Po Loves Crawling
Jumping 3
Teletubbies Go to Sleep
Let's Dance
Tubby Conga
Tip Toe Dance (extended version)
Jumping Dance (on the path)
Happy Dance
Stamping and Stepping Dance
Trivia
In Go!, at the end of the episode, the sun is shown setting without the credits. Also the night time sky stays for a few seconds than it's usually is.
In Let's Dance, when the voice trumpet rises at the end of the intro, instead of saying 'Where have the Teletubbies gone?' A female voice says 'Dance with the Teletubbies' 3 times and the Teletubbies can be heard cheering while the Sun Baby is shown.
In Let's Dance, when the Teletubbies have Tubby Bye Bye , they play their little game of 'Boo' twice, Laa Laa first pops up to say Boo and then they do it again and Tinky Winky pops up to say Boo.
This is the only video that doesn't have videos of children from the Teletubbies tummies.
Po was the missing teletubby in both both features.