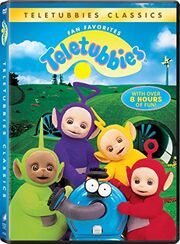 Teletubbies Classics: Fan Favorites is a Teletubbies video that was released on May 23, 2017 for the 20th anniversary of the series. It features a total of 20 episodes of the classic series on 3 discs.
Episodes
Disc 1:
Disc 2:
Disc 3:
Trivia
This is the first Teletubbies DVD to feature a few things
1. The first DVD to feature the UK narration
2. The first US DVD to feature the Lion and Bear.
3. The is the first DVD since Animal Friends to feature the original 1997-2001 series of Teletubbies.
Ad blocker interference detected!
Wikia is a free-to-use site that makes money from advertising. We have a modified experience for viewers using ad blockers

Wikia is not accessible if you've made further modifications. Remove the custom ad blocker rule(s) and the page will load as expected.