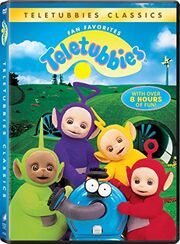 Teletubbies Classics: Fan Favorites is a Teletubbies video that was released on May 23, 2017 for the 20th anniversary of the series. It features a total of 20 episodes of the classic series on 3 discs.
Episodes
Disc 1:
Disc 2:
Disc 3:
Trivia
This is the first Teletubbies DVD to feature a few things
1. The 3rd US DVD to feature the UK narration.
2. The 1st US DVD to feature the Lion and Bear.
3. The is the 1st DVD since Animal Friends to feature the original 1997-2001 series of Teletubbies.