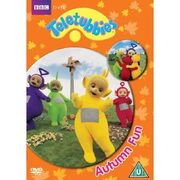 Teletubies Autumn Fun
was released on DVD in 2010.

It contains 5 exciting adventures with Tinky Winky, Dipsy, Laa-Laa and Po having autumn adventures in Teletubbyland.
Episodes
Leaves (One of the Banned Lion and Bear episodes)
Trivia
This was the second DVD To feature the Lion and Bear Original Sketch.
This is the last DVD to be distributed by Ragdoll.
​Cover Gallery
Ad blocker interference detected!
Wikia is a free-to-use site that makes money from advertising. We have a modified experience for viewers using ad blockers

Wikia is not accessible if you've made further modifications. Remove the custom ad blocker rule(s) and the page will load as expected.