Teletubbies 10- Time to Dance is a DVD released in 2007 in the US. It features three episodes that didn't air in the US.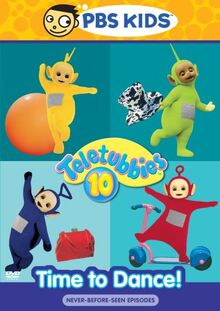 Episodes
1. Barrel Organ
Special Features
3. Sneak Peeks
4. Understanding Teletubbies
5. Laa Laa and Po Close Ups
Trivia
Ad blocker interference detected!
Wikia is a free-to-use site that makes money from advertising. We have a modified experience for viewers using ad blockers

Wikia is not accessible if you've made further modifications. Remove the custom ad blocker rule(s) and the page will load as expected.