Teletubbies - The Album is an album that was released in 1998. It is based on the popular children's show of the same name. The album's single "Teletubbies say 'Eh-oh!'" was a number-one hit in the UK Singles Chart in December 1997 and reached the number 13 in the Dutch Singles Chart in late 1998.[2]
Track Listing
All the tracks from the TV Programme are all the same renditions but with slightly different instrumentation.
The Puddle/Splashing Dance - 3:26
The Three Ships - 2:21
Dirty Knees - 5:07
The Twisty Dance - 2:39
The Animal Parade - 2:30
The Running Away Dance - 2:55
The Magic Tree - 1:50
Teletubbies Say "Eh-Oh" - 3:32
The Up and Down Dance - 3:36
Jumping for Fun - 6:09
Follow My Leader Remix - 3:16
Clouds - 5:21
Lullaby - 3:00
Listen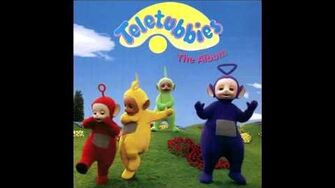 National Chart Performances
References
#13 Dutch Singles Chart - dutchcharts.nl
chartpositions @ australian-charts.com
External links
Retrieved from "http://en.wikipedia.org/wiki/Teletubbies_%E2%80%93_The_Album" Categories: 1990s album stubs | Children's album stubs | 1998 albums | Children's music | Theme music | TeletubbiesHidden categories: Articles with hAudio microformats | Infobox album with reviews
Ad blocker interference detected!
Wikia is a free-to-use site that makes money from advertising. We have a modified experience for viewers using ad blockers

Wikia is not accessible if you've made further modifications. Remove the custom ad blocker rule(s) and the page will load as expected.