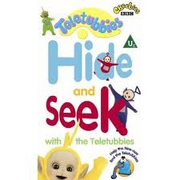 Teletubbies Hide and Seek is a Teletubbies Video about Hiding , released in 2003 by Ragdoll Productions and BBC.
Featuring: The Children of Bartlemas Nursery School; Jed Clemmett, Becky Murray & Anne-Marie Walker; Michael, Garth & Daphne Hardie
Includes
Trivia
Before the Becky and Jed Finding eggs TV transmission, the Magic Windmill spins with Magical Event tune, This also happens in The Hiding Game segment Before Bagels TV Event in US version.
When the windmill spins for Becky and Jed Finding eggs TV transmission it cuts to the first segment of Becky and Jed Finding Eggs instead of the next segment for Making Lanterns
Tinky Winky was the missing teletubby
Laa-Laa was the boo shouter
Ad blocker interference detected!
Wikia is a free-to-use site that makes money from advertising. We have a modified experience for viewers using ad blockers

Wikia is not accessible if you've made further modifications. Remove the custom ad blocker rule(s) and the page will load as expected.