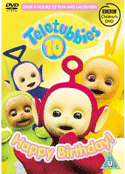 "Teletubbies: Happy Birthday!" is a DVD with a celebration of everything that is great about the Teletubbies. Features top 10 Teletubby moments as voted for by readers of Mother & Baby Magazine. It features 10 best episodes and 10 Teletubbies segments, such as The Tap Dancing Teddy Bear, The Animal Parade, Noo-Noo Tidying up the Tubby Custard, The Lion And Bear, Little Bo Peep, The Singing Man in the Pink House, Favourite Things, The Magic Tree, Eight Clouds and The Three Ships.
Episodes:
Trivia
In Australia, Disc 2 is entitled "Many happy Returns".
Cover gallery
Ad blocker interference detected!
Wikia is a free-to-use site that makes money from advertising. We have a modified experience for viewers using ad blockers

Wikia is not accessible if you've made further modifications. Remove the custom ad blocker rule(s) and the page will load as expected.