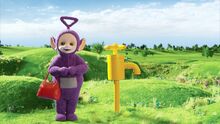 Taps

Number

394

Air Date

04 February 2016

Director

Richard Bradley

Previous

Next
Tinky Winky's bag fills up with sparkles from a tap, A child in Tummy Tales uses a new tap in the bathroom when she brushes her teeth before bedtime and when Home Dome overflows with tubby custard, Po has to turn the Tubby Custard Machine off.
Trivia
This is the twenty-ninth episode of the new series
Tinky Winky was the missing teletubby
Po was the boo shouter but Laa-Laa said goodbye for a final time
This episode aired in the US on June 30, 2016.
The Tubby Custard Flood scene was a remake of the same segment from the original episode Trickle Painting.
Ad blocker interference detected!
Wikia is a free-to-use site that makes money from advertising. We have a modified experience for viewers using ad blockers

Wikia is not accessible if you've made further modifications. Remove the custom ad blocker rule(s) and the page will load as expected.