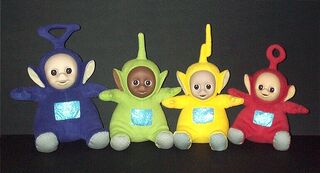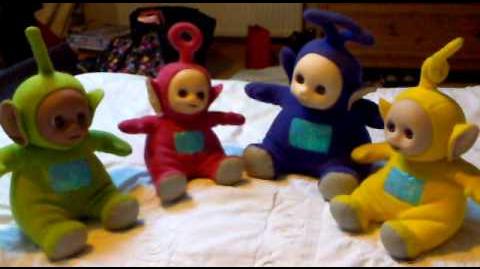 The
Talk Together Teletubbies
soft plush toys are interactive communicating
Teletubbies
by Golden Bear. By having the Teletubby hand a squeeze, he/she starts to talk (to each other if there are more than 2 on). There are 6 sayings for each Teletubby to say. Like if
Dipsy
wants to say
Tubby Custard
, then
Laa-Laa
wants Tubby Custard. If
Tinky Winky
says "Eh-Oh Po!", then
Po
says "Eh-Oh Tinky Winky!", then the Teletubbies sing their songs. The eyes also move. They play hide-and-seek, which means that the teletubby will say "Where Tinky Winky/Dipsy/Laa-Laa/Po?". The Teletubby will also say "What's that?" for a surprise. The Teletubbies also like to give
Big Hugs
as well. The Teletubbies will shut off automatically after a few seconds (even when not touching his/her/their hand).
Trivia
The interactive Tinky Winky doll was recalled to say "I got a gun!" (after munching Tubby Toast/slurping Tubby Custard), though, he was supposed to say "Again Again!"
Ad blocker interference detected!
Wikia is a free-to-use site that makes money from advertising. We have a modified experience for viewers using ad blockers

Wikia is not accessible if you've made further modifications. Remove the custom ad blocker rule(s) and the page will load as expected.