The Teletubbies play a round and round game with a Voice Trumpet, then the Magic Windmill spins from the Start Spinning animation and the Teletubbies watch some children playing Stop and Go. The Teletubbies are giggling and they were playing a Ready Steady Go game by running, jumping, crawling and walking backwards They then played the Ready Steady Go game anyway they wanted to.
Featuring: The Children and Staff of The African Caribbean Project, Leamington Spa
Trivia
There is a rare opening shot at the beginning of the Round and Round game segment.
This episode also includes A rare animation of the windmill.
Po was the boo shouter.
Dipsy was the missing teletubby.
Watch Episode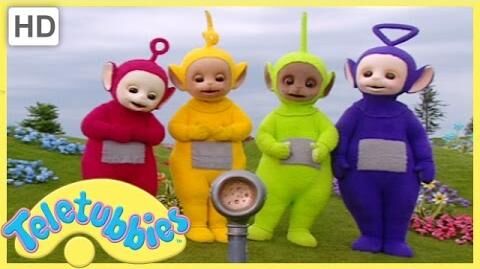 Ad blocker interference detected!
Wikia is a free-to-use site that makes money from advertising. We have a modified experience for viewers using ad blockers

Wikia is not accessible if you've made further modifications. Remove the custom ad blocker rule(s) and the page will load as expected.