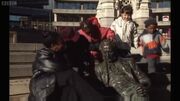 The Teletubbies play a hiding game inside the house. Tinky Winky, Laa-Laa, and Po hide from Dipsy. Laa-Laa hides between the beds, Po hides under the arch, and Tinky Winky hides behind the Tubby Toaster. When Dipsy looks for the other Teletubbies, he can't find them. But when Noo Noo tidies up, he finds the other Teletubbies, then Dipsy finds them. The Teletubbies watch some children play Statues. The Teletubbies do the Tip Toe Dance before Tubby Bye Bye.

Featuring: Nathaniel Facey, Shantelle Hamilton, Saj Musa and Kelly Phillips
Trivia
The Hiding from Dipsy segment was featured in the VHS Hide and Seek.

Po was the boo shouter.

Tinky Winky was the missing Teletubby.

The filming location for this episode's TV Event was also used for another TV series made by Ragdoll Productions called 'Brum' which was produced from 1991 to 2002.

The sculpture where the children play is Raymond Mason's controversial work "Forward Statue". The sculpture was destroyed by a fire in April 2003.
Watch