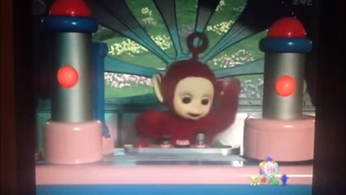 Inside the Home Hill, Po has to eat her Tubby Custard, but the Magic Windmill stops her and she watches some children painting in a garden. After that, Po and the other Teletubbies prepare for some Tubby Custard again. The Teletubbies also try to be very careful not to spill their Tubby Custard, but if they do, the Noo-Noo will have to tidy up. The Teletubbies have a big hug before Tubby Bye Bye.
Featuring: Louise Condon with Julien Jallane, Leia Kennedy and Bernadette Marron
Plot (US Version)
Inside the Home Hill, the Noo Noo presses a button on the Tubby Toast Machine, and then he tidies it up. Then the Teletubbies come in to say hello to the viewers. After that, the Magic Windmill starts spinning and they run off to watch some children painting in a garden. Then, the Teletubbies wake up to have some Tubby Custard, and Po accidentally spilled her Tubby Custard, the other Teletubbies have to be careful not to step on the Tubby Custard or they'll get slipped. Most of all, after the Teletubbies make their Custard. Tinky Winky manages to be careful, but he slipped on the Custard, the Noo Noo tidies up the Tubby Custard, and Tinky Winky returns inside and he spilled his Tubby Custard over his bib. The Noo Noo clears the custard stain up. Tinky Winky goes to the table, and suddenly he doesn't have any Custard left. Dipsy shares Tubby Custard with Tinky Winky, Tinky Winky thanks Dipsy for sharing. Then the Teletubbies eat their Custard, unfortunately the Windmill starts spinning and they groan and run out to watch The Three Ships sail through Teletubbyland before the Magic Windmill stops spinning and then the Teletubbies hold hands together, and then the Windmill spins and the Teletubbies run off while the windmill stops spinning for Tubby Bye Bye.
Triva
The UK Version has no Magical Event and dance. The US Version doesn't have a dance either.
The US Version has The Three Ships before the next segment of Holding Hands after the windmill stops spinning.
Laa Laa was the missing teletubby in UK Version. Po was the missing teletubby in US Version.
Laa Laa was the boo shouter in UK Version. In US Version, Dipsy was the boo shouter but then Tinky Winky ending.
This is the 200th episode of the series.
Ad blocker interference detected!
Wikia is a free-to-use site that makes money from advertising. We have a modified experience for viewers using ad blockers

Wikia is not accessible if you've made further modifications. Remove the custom ad blocker rule(s) and the page will load as expected.