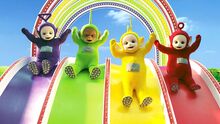 The Tubby Car takes the Teletubbies to the Hidey Hup where they discover the Tubby Slidey. Tinky Winky, Dipsy, Laa-Laa and Po have great fun sliding down again and again.
Trivia
This episode aired on the date of Teletubbies' 20th Anniversary, 31st March 2017.
Po was the missing teletubby
Tinky Winky was the boo shouter but Dipsy said goodbye for a final time.