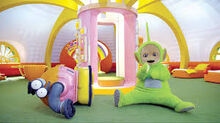 Silly Sausages

Number

384

Air Date

21 January 2016

Director

Jack Jameson

Previous

Next
Dipsy comes down on the Dup Dup, but it goes up again then it comes down. Dipsy knocks Noo-Noo over, and he apologises before the Magic Windmill spins. In Tummy Tales, children have fun being silly in a park. Tinky Winky, Laa-Laa and Po laugh at a funny joke told by a voice trumpet, but when they tell it to Dipsy, he doesn't think that the joke is very funny. Instead he does a funny dance that all the Teletubbies think is funny.
Trivia
This is the nineteenth episode of the new series
The main segment is a loose remake of the main segment from the episode Stretching Words.
Dipsy was both the missing teletubby and boo shouter but Laa-Laa said goodbye for a final time
This episode aired in the US on June 16, 2016.