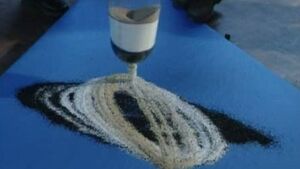 The Teletubbies come into the house before watching three children filling up a soft drink bottle with black and white sand and the sand comes out all over the place. Tinky Winky, Dipsy and Laa Laa follow Po around Teletubbyland. The Windmill spins and the Teletubbies watch the Animal Parade before Tubby Bye Bye.
Featuring: Sam Chivers, George Clark and Andrew Bloomfield
Watch Episode
Trivia
Dipsy was the boo shouter.
Tinky Winky was the missing teletubby.