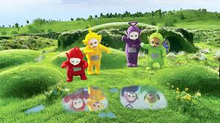 Reflections

Number

386

Air Date

25 January 2016

Director

Jack Jameson

Previous

Next
As the Teletubbies say Eh-oh to their reflections in a puddle, Dipsy's hat falls in and gets wet - oops! Dipsy sings a sad song, but then the sun shines and the wind blows, and his hat is dry again in no time! In Tummy Tales, the Teletubbies watch children enjoying their reflections in a Scottish loch.
Trivia
This is the twenty-first episode of the new series
Laa-Laa was the missing teletubby
Tinky Winky was the boo shouter but Laa-Laa said goodbye for a final time
This episode aired in the US on June 20, 2016.
Reason of 'Silvie's Fish Pond', Dipsy's hat falls into a puddle and gets wet.