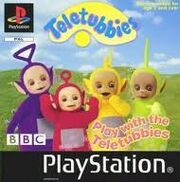 Play with the Teletubbies
is a children's video game released in 1999 for PlayStation(PS1) and PC by Ragdoll Productions, BBC Multimedia and AE Games. This is first Teletubbies video game.
Children control a Teletubby, wonder around Teletubbyland and can play some fun activies in Teletubbyland and inside the House.
The activities in this game: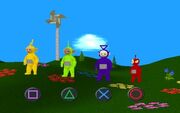 Teletubbyland
Favourite Things - The Teletubbies play with their Favourite Things
Hiding Game - The Teletubby looks for the other Teletubbies Hiding Behind some Trees.
Whats That?- Something appears from Far Away, the Teletubby chases the object and at the end, a Voice Trumpet sings a song related to that object. The objects are:

Star (Twinkle Twinkle Little Star)
Sheep (Little Bo Peep)
Puddle (Doctor Foster)
Dog (Hark Hark)
Duck (Duck Goes Quack)
Wall (Humpty Dumpty)
Watering Can (Mary Mary, Quite Contrary)
Mirror (Look in the Mirror)
Pig (This Little Piggy)
Kite (Blow, Wind)
Guitar (Pop Goes the Weasel)

Magic Drum- A Magic Drum appears from Far Away. Bang the drum four times to make Flowers, Clouds, Rabbits and the other Teletubbies appear. After all these appear, bang the drum and everything swaps around and disappears.(In the PS1 Version, instead of Rabbits there are another set of Flowers)
Flamenco Guitar
Our Pig Winnie
Kite Flying
Dry Stone Wall
Herding Sheep
Our Dog Alice
Our Lighthouse
Playing in the Rain
Sarah and Fraser feeding the Ducks
Photo Faces
Magic Event Games
The Magic Train - A Train appears on a track , make it go fast, slow, forward and backwards and make noises.
The Musical Clouds- Clouds appear ( Four in the PS1 Version, Three in the PC Version ) raise the clouds to make music, each cloud has a different Instrument.
House
Tubby Custard- Make a mess at the Tubby Custard Machine and make Tubby Custard foot prints. The Teletubby can be sped up and then Noo Noo will tidy up.
Tubby Toast- Make Tubby Toast , if the Teletubby makes more than four pieces Noo Noo will tidy up.
Chasing Noo Noo- Noo Noo tidies up a piece of Tubby Toast and the Teletubby chases Noo Noo around the House, one by one another Teletubby will appear and join in the chasing, at the end the Teletubbies have a Big Hug with Noo Noo
Control Panel-  Play with the Control Panel and make funny noises (This game is not in the PC Version).