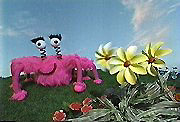 Pink Spider is a mischevious and silly spider that appeared in the episode
Building A Barbecue
. Like
Little Lamb
, he is a stuffed animal that is living by stop-motion animation.
Tinky-Winky
,
Dipsy
, and
Laa-Laa
are scared of Pink Spider, but
Po
is not. Actually, he is scared of Po. After Pink Spider scared away the first three Teletubbies, Po braves of him. She did a fighting move that made the spider feel threatened, and scared him away and says "Bye-Bye, Spider", so that he will never come back ever again.
Trivia
Pink Spider is one of the few living things that appeared from far away.
Pink Spider appeared in the Teletubbies book Little Miss Muffet
Pink Spider is one of the things that some of the Teletubbies fear (unlike The Lion And Bear where all the Teletubbies (except Po ) are scared.)
Pink like the color of the Pink Spider is one of Laa-Laa's favorite colors. Also her favorite nursery rhyme is Little Miss Muffet.
Pink Spider appears in the Teletubbies VHS/DVD Teletubbies Nursery Rhymes/Musical Playtime
All of the Teletubbies are scared of the Pink Spider except Po who is a bravest spider fighter and is not afraid of him. She scares him away instead and says "Bye-Bye, Spider" so that he will never come back ever again. After scaring him away, she giggles when looking at the screen continuing her giggles.
Gallery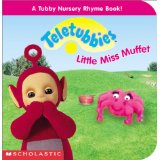 Ad blocker interference detected!
Wikia is a free-to-use site that makes money from advertising. We have a modified experience for viewers using ad blockers

Wikia is not accessible if you've made further modifications. Remove the custom ad blocker rule(s) and the page will load as expected.