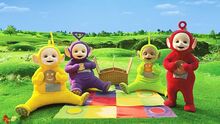 The Teletubbies go on a very special picnic together. Lots of Tubby Toast pops out of the Dup Dup and lands on the picnic plates for the Teletubbies to munch.
Trivia
This is the fourth episode of the second series of the reboot
This is the sixty-fourth episode of the revamp
This episode aired in the UK on 16 March 2017
Po was the missing teletubby
Tinky Winky was the boo shouter but Dipsy said goodbye for a final time.