Photo Faces

Number

12

Air Date

15 April 1997

Director

Vic Finch

Previous

Next
Photo Faces
is the 12th episode of the original series. It first aired on 15th April, 1997.
Synopsis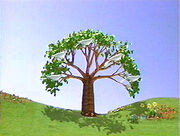 Tinky Winky, Dipsy and Laa Laa go running along the hills. Then they say "Eh Oh!" to the viewers. Po appears and goes: "Boo! Eh Oh!" and joins the others. The Magic Windmill spins and the Teletubbies go off to watch some children taking photographs of each other's faces. Later in Teletubbyland, a telescope appears and Dipsy has a good look around. He sees flowers, rabbits, trees and the House. Dipsy then hears some noises and looking through the Telescope, he sees Laa Laa playing with her ball, Tinky Winky opening and shutting his bag and Po smelling some flowers. After that, he sees the Teletubbies having a big hug so he rushes off to join in. The Magic Windmill starts to spin. The Teletubbies say: "Uh-Oh!" and they rush off to watch the magical event. The Magic Tree appears in Teletubbyland, along with the five doves before the Magic Windmill stops spinning and it's Tubby Bye-Bye.
Featuring: Tarik Cassim, Gabriel Waddingham, Jay Simpson, Camille St Omer, Kevin & Kirsten Jarin
Trivia
The Teletubbies "Uh Oh!" line that is used in both the TV Reciever and Magic Event sequences is the same exact sounding one that they say in the opening credits and also in the episodes Ned's Bicycle, The Grand Old Duke of York, Dad's Lorry, See-Saw, Owl Babies, Jumping, Numbers- 5 (V1), Dirty Dog and Sophie - Art Circus as well as on the VHS Here Come The Teletubbies.
This episode also includes a rare animation of the Windmill.
This marks the first apperances of Camille, Jay, Kevin, Kristen and the only apperances on Gabriel and Tarick.
Laa-Laa was the 'boo' shouter
Tinky Winky was the missing teletubby .
Also, the Photo Faces video appears on the PSX Game Play With The Teletubbies.
Gallery
Watch Episode