Penelope Keith is a British actress who is most famous for starring in British sitcoms such as The Good Life and To the Manor Born.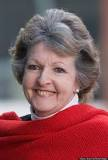 She is known more to Teletubbies fans as being the voice of The Bear With Brown Fuzzy Hair from The Lion And Bear Magic Event which caused a lot of controversy due to the Segment being too scary for young children. Penelope Keith's portrayal of the character was quite unsettling as she gave the Bear a very taunting voice, however when the segment was redone, she made the character sound a lot more joyful. Penelope Keith hasn't had many recent television appearances but she has done many other things.She was appointed an Officer of the Order of the British Empire (OBE) in the 1990 New Year Honours, and was promoted to a Commander (CBE) in the 2007 New Year Honours for "charitable services".In the 2014 New Year Honours, she became a Dame Commander of the Order of the British Empire for services to the Arts and to Charity.
Ad blocker interference detected!
Wikia is a free-to-use site that makes money from advertising. We have a modified experience for viewers using ad blockers

Wikia is not accessible if you've made further modifications. Remove the custom ad blocker rule(s) and the page will load as expected.