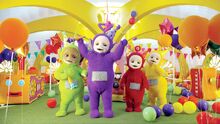 Party

Number

395

Air Date

February 5, 2016

Directors

Jack Jameson

Richard Bradley

Previous

Next
The Teletubbies have balloons, party blowers and lots of sparkles. They visit the Tiddlytubbies and do a fun party dance. In Tummy Tales, twins celebrate their birthday with all their friends.
Trivia
.This is the thirtieth episode of the new series.
Laa-Laa was the missing Teletubby.
Tinky Winky was the boo shouter but Po said goodbye for a final time.
All of the Teletubbies play with the Tiddlytubbies in this episode, this episode also introduced Tiddlytubbies Party Time.
This is the last episode of the second quarter. The next 15 episodes wouldn't start airing until May 2016.
This episode aired in the US on July 1, 2016.
In Jane Horrocks' interview video, part of this episode's script is shown. There were a few changes between the script and the final version of the episode. For example, the script stated that the Voice Trumpets would be decorated with bunting and streamers during the party scene. However, the Voice Trumpets appeared without these decorations in the final version.
GOOF: When the Teletubbies are walking away from the Voice Trumpet for Teletubby Party Time, some studio equipment for the Voice Trumpet can be seen for a brief moment in the bottom right corner.