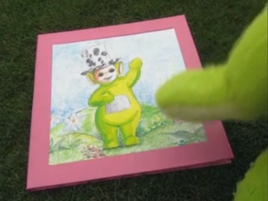 Tinky Winky, Dipsy and Po play boo inside the house. The Teletubbies watch some children painting pictures. Dipsy is out for a walk when a magic book appears in Teletubbyland. The book is about a cloud that rains on Tinky Winky. The Magic Windmill stops spinning and it is time for Tubby Bye-Bye.
Featuring: Sophie Herxheimer with Poppy Abbott and Simeon Bond
Trivia
This episode re-uses the opening segment from Washing the Bus. The only difference is the music.
The Dipsy's Magic Weather Book segment was featured in the VHS Happy Weather Stories.
Tinky Winky was the boo shouter.
Po is the missing teletubby.
Watch Episode