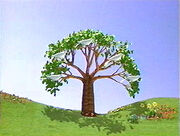 The
Teletubbies
dance an up-and-down dance. They go off to watch some children painting pictures and patterns on eggs.
Laa-Laa
dances with her skirt and her ball. She rushes off to fetch the Teletubbies to watch
The Magic Tree
as it appears in
Teletubbyland
with five doves. The
Magic Windmill
stops spinning and it is time for
Tubby Bye Bye
.
Featuring: Jean-Rene Badrick, Rachel Cann, Daniel & Rachel Goldberg, Alice Greenwood, Talbah Khan and Finbar Lenahan
Plot (US Version)
The Teletubbies dance the Falling Down Dance. Then, the magic windmill starts spinning and they watch some children painting pictures and patterns on eggs. Then, Back in Teletubbyland, the Teletubbies watch the clouds float by. Suddenly, a little puffy cloud floats inside the Home Hill! The Teletubbies rush inside to have Tubby Custard but they found it rather inconvenient having a cloud indoors. Laa-Laa has split her Tubby Custard then the Noo-Noo comes to tidy up the custard and cloud. But all that custard and all that cloud are getting very mixed up inside the Noo-Noo. He goes over to the doors and blows the little puffy cloud outside. The cloud has turned into a Special Pink Tubby Custard Cloud! The Teletubbies wave goodbye to the cloud and then The Magic Windmill starts spinning and the Teletubbies run off to watch The Three Ships sail through Teletubbyland before The sun giggles for Tubby Bye-Bye.
Trivia
Po was the 'boo' shouter in UK Version. Dipsy was the 'boo' shouter in the US Version.
Dipsy was the missing teletubby in UK Version. Laa Laa was the missing teletubby in the US Version.
The US Version has The Falling Down Dance before The TV Reciever Event. Also, the US Version has The Three Ships after The Pink Tubby Custard Cloud segment.
In the US Version, the rabbits song was shown on rabbit scene (same version on Paddling Pool) and then after the rabbits song, the camera cuts to the opening shot of Field #2.

24:32

Teletubbies Painting Easter Eggs - HD Video
Ad blocker interference detected!
Wikia is a free-to-use site that makes money from advertising. We have a modified experience for viewers using ad blockers

Wikia is not accessible if you've made further modifications. Remove the custom ad blocker rule(s) and the page will load as expected.