Nursery Rhymes

Number

3

Directors

Vic Finch

David G Hillier

Previous

Next
Nursery Rhymes is the third volume in the Teletubbies VHS series released in 1998 (1999 in the USA). It was released in 2008 along with Musical Playtime on the DVD Teletubbies 'Muscial Rhyme Time!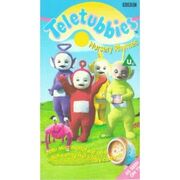 Includes
Dipsy and Laa-Laa play Jack and Jill.(from Numbers Two Version 1)
Po sings Twinkle Twinkle Little Star(from Lighthouse)
The Teletubbies play Ride a Cock Horse.(from Yellow Cow)

Featuring: King Pleasure & the Biscuit Boys, Oscar & Felix Taylor and The Pupils of Chuckery Infants School, Walsall
Trivia
Dipsy was the boo shouter
In the German version the Grand Old Duke of York video was replaced with My Mum's Keyboard.
For some reason, in the US version the Twinkle Twinkle segment and The Gingerbread Boy switched places with the Grand Old Duke of York segments
The missing teletubby was Laa-Laa
Watch Video
Ad blocker interference detected!
Wikia is a free-to-use site that makes money from advertising. We have a modified experience for viewers using ad blockers

Wikia is not accessible if you've made further modifications. Remove the custom ad blocker rule(s) and the page will load as expected.